Beard Oil
Regular price
Sale price
₹ 300.00
Unit price
per
Sale
Sold out
The quest to grow a better beard is a longtime tradition, and Aara Organics is here to help. Beard Oil is a specially developed oil that nourishes and moisturizes your beard. It is free from any kind of artificial chemicals and is certified organic. It is also the perfect blend of ingredients which keeps the beard healthy, clean and in good shape.
Benefits

1. Soothes itchy, dry skin and fights irritation
2. Very effective in combating issues like patchy beard growth or slower facial hair growth
3. Nourishes the skin under the beard tackling problems such as itchy and dry skin
4. Your skin feels hydrated and well-nourished
5. Increase hair volume giving you a denser beard
Ingredients 

A combination of ingredients such as Coconut oil, Grapeseed, Flaxseed, etc..that work wonderfully together to keep your beard in great shape
How To Use ?

USAGE DIRECTIONS:

✔Take three to four drops of beard oil in the palms of your hands and massage it into your beard in a downward motion

✔If your beard is long or thick, use a comb to make sure the beard oil gets evenly distributed

✔Give the beard 5-10 minutes to absorb the oil
Share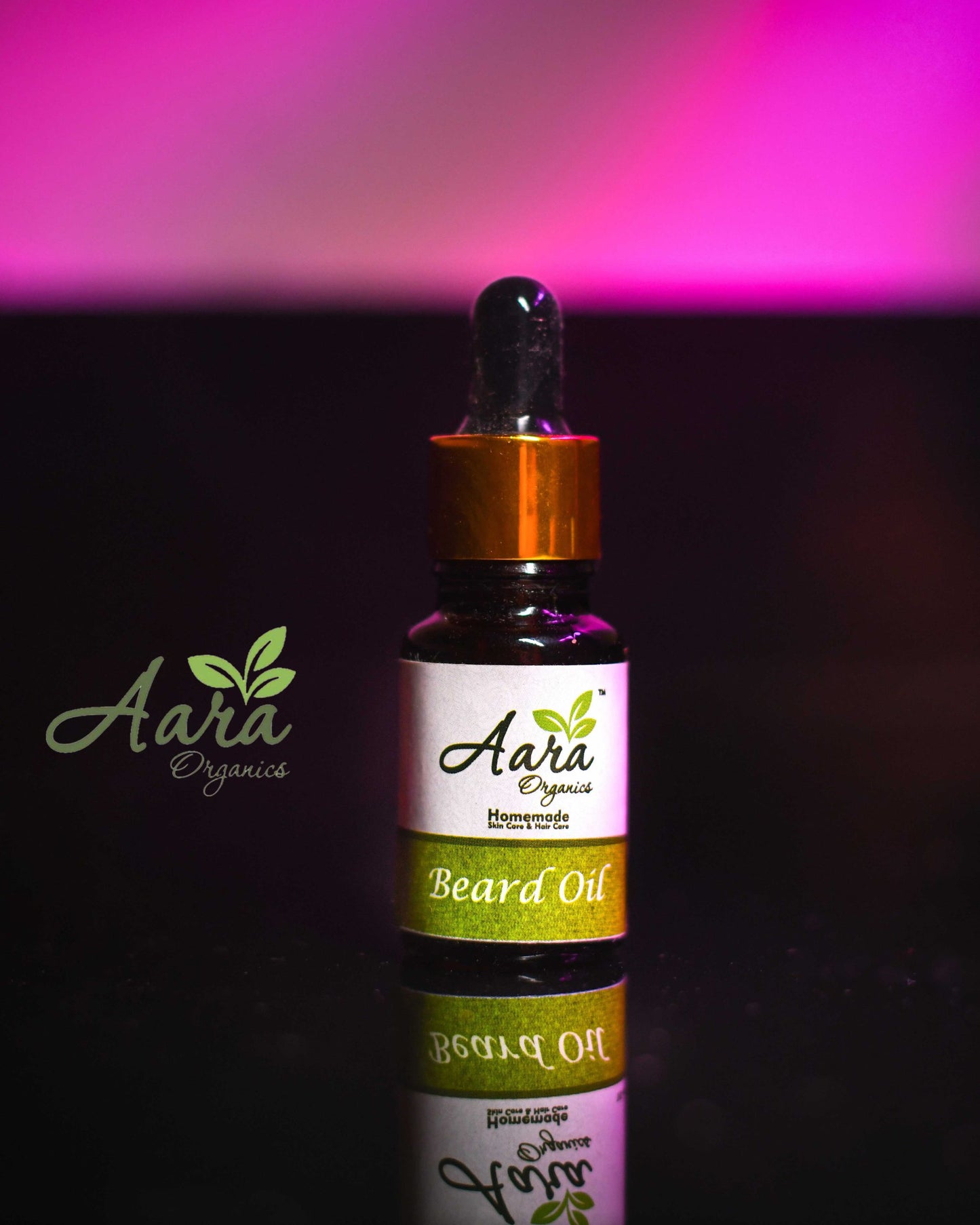 it's help to growth my beard💯💯
Making beard soft
baught it for my husbond. he is sddicted to the oil as it reduces his beard itching and making it too soft. it's our 3rd order now.
beard oil
beard oil is really amazing👌🏻💚💚 it reduce my beard itching .... its simply super i love it 💙💖💖💖💖
beard oil
hii mam..🖐🏻 this is my first order.. i really like ur beard oil soo much...🤩🤞 it helps to induce the hair growth in my skin( beard)..👌🏻🤗 thank u so much for ur products AARA🤞👌🏻
beard oil good
I'm using aara beard oil past 6 to 7 months initially no changes in my beard .. i asked them they said use continuously and i use more than 4 months honestly amazing result...👍👍 now I'M seeing the visible change unexpected result spr... 🥰👌 recommended one