Hibiscus Hair Pack
Regular price
Sale price
₹ 400.00
Unit price
per
Sale
Sold out
Our HIBISCUS HAIR PACK that is made of Hibiscus Flowers & leaves, Fenugreek, etc.. Hibiscus flowers have been used since centuries to promote hair growth and eliminate dandruff. Hibiscus has been used in India since ages for hair care. It is one of the most effective herbs that can resolve a number of hair woes, like hair fall, grey hair, thinning of hair etc., 
Benefits

1. Enriched with vitamins, such as vitamin A, B, C, as well as calcium, phosphorus and other minerals along with amino acids, AHAs, etc that all work together to nourish the hair from deep within
2. Strengthen the roots to the tips and stimulate them for hair growth
3. Hibiscus contains a high amount of vitamin C. Vitamin C can boost collagen production, which helps in maintaining the natural elasticity of the hair
4. It contains Vitamin A which helps in promoting sebum production which in turn helps to moisturize the hair as well as scalp, and prevent dryness
5. Hibiscus flowers can work as a great natural hair conditioner and help you fight off dry, frizzy and lifeless hair
Ingredients 

Hibiscus Flowers & leaves, Fenugreek, etc..
How To Use ?

**Take the required quantity in a bowl. Mix it up with Curd/Rice Water/Coconut Milk
**Apply as hair pack. Leave for 15-20 minutes. Then rinse off using a mild hair cleanser
..
🔸For best results, use it along with Aara Organics range of hair oils & shampoos
Share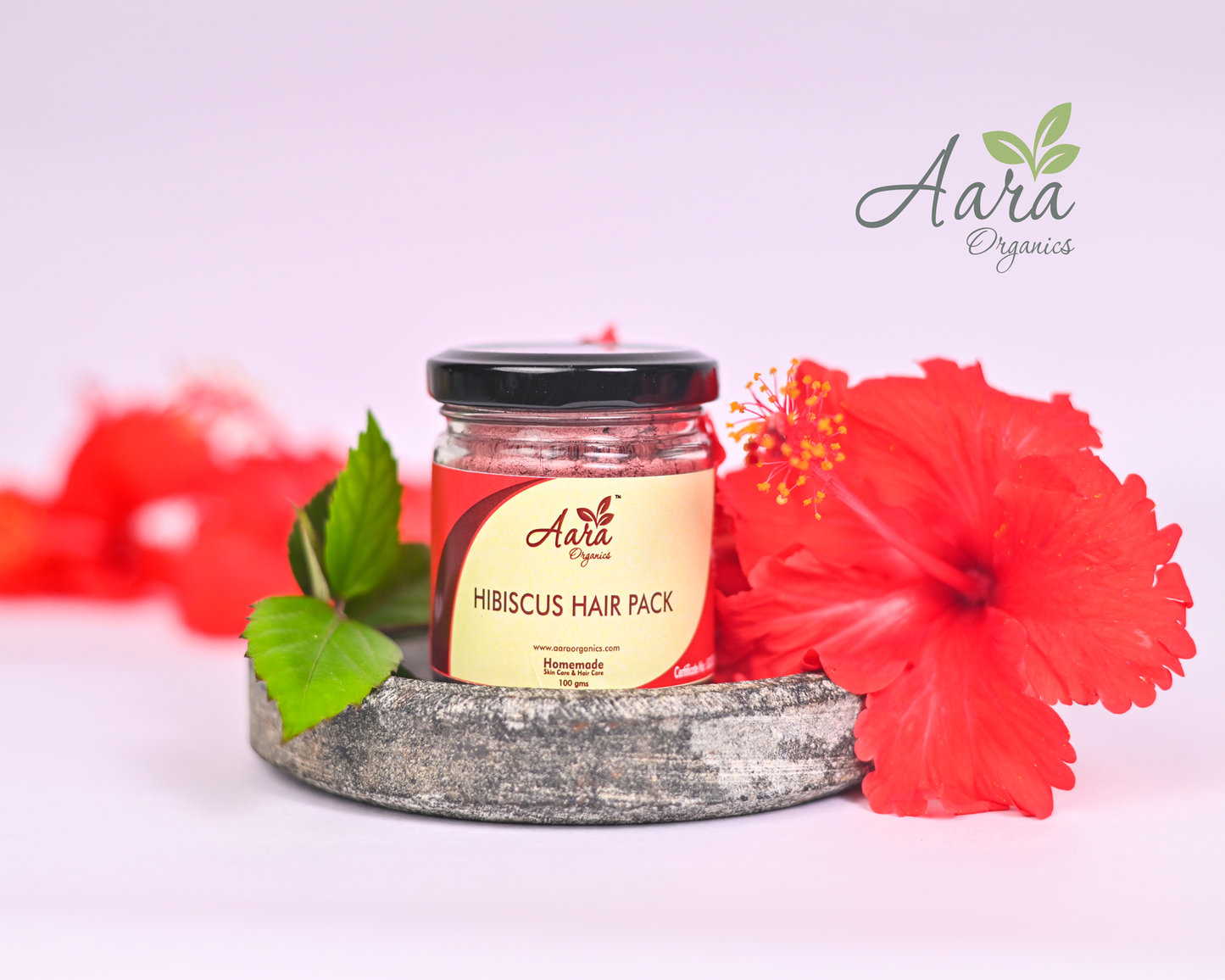 it reduce dandruff and make my hair smooth and soft👌👌👌
superd one
it help to grow my hair
make my hair soft nice one
HIBISCUS HAIR PACK
hi mam , it removes dandruff and itching 💯💟💟 it helps in regrowth 🥰🥰🥰🥰 and makes my hair smooth 👌🏻😘😘😘😘😘 tq u mam 💓🤞💝💝
hibiscus hair pack
hii mam ..this pack is good to use 👌😘😘😘 it helps for regrowth and removes dandruff , grey hair ❤❤💕😚😚😚😚 i really love this product 😘😘😘😘😘🥰👌 thank u sooo much aara 🤩🤩🤩🤩🤩🤩🤩🤩