Nalangu Maavu
Regular price
Sale price
₹ 350.00
Unit price
per
Sale
Sold out
❖ Our Nalangu Maavu can be used as bath powder for babies and adults (especially
for oily-acne prone skin) can use it as FACE WASH POWDER.
❖ The skin calming ingredients added in the product, calms down skin irritations,
absorbs excess oil, treats blemishes, prevents acne problems & future breakouts.
Benefits

❖ Restores natural pH balance of the skin.
❖ Treats skin inflammations.
❖ Possesses Anti-fungal, Anti-microbial properties.
❖ Keeps baby's skin soft & nourished.
❖ Does not strip out natural oils.
❖ Has a calming fragrance of the herbs.
❖ Reduces body heat.
❖ Unlike chemically laden synthetic soaps, gently scrubbing the Nalangu Maavu
improves blood circulation to the body.
❖ Relaxes muscles.
Ingredients 

Our NALANGU MAAVU - is a
blend of handpicked ingredients like Green Gram Dal, Badam, Tulsi Leaves, Vettiver,
Neem Leaves, etc, that is specially made for babies with love and care.
How To Use ?

For Babies - as a daily Bath Powder:
★ Take the required quantity of the Nalangu Maavu, add few drops of unrefined
coconut oil and some water & mix it into a smooth paste.
★ Apply all over the body & leave it for few minutes.
★ Rinse off using warm water.
.
For Adults - as a Face Wash Powder:

★ Take required quantity in your palm & mix with water.
★ Apply all over your face & leave it for few minutes.
★ Rinse off using plain water.

Make it as a part of your everyday routine not only to have healthy skin, but also to give a
traditional touch to stay clean & natural.
Share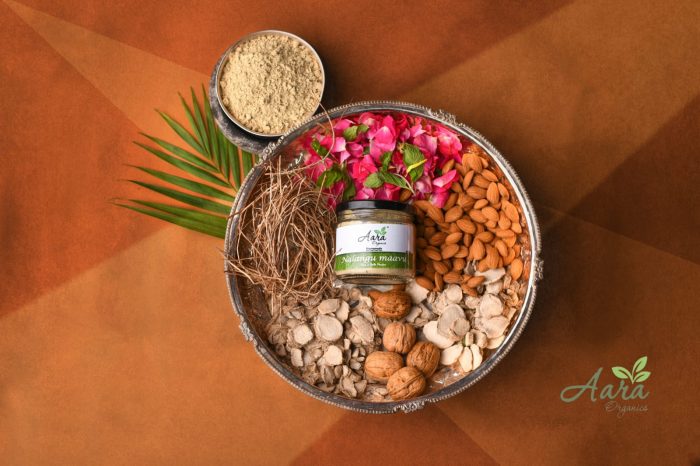 I didn't receive parcel
No person delivered parcel and I didn't receive parcel
Nalangu Maavu,Red wine gel
good result for my skin mam,feel fresh,and also very soft and shiny on my face.Thank you mam
I didn't receive my order still I will use and let I know